In the wake of the resolution to the US government shutdown, the Dow Jones Industrial Average was initially expected to open higher.
But when trading began the Dow dipped 27 points or 0.1%, with investors moving on to worry about the impact of Donald Trump's move to impose steep import tariffs, including possible retaliation. South Korea and China both protested at the duties on washing machines and solar panels.
The S&P 500 however edged up 0.03% and the Nasdaq composite climbed 0.23%.
NF
David Autor, Ford Professor of Economics at MIT, has predicted that today's giant tech companies – such as Facebook – will suffer the face of previous dominant companies.
He's on a panel asking 'can we live with monopolies'.
Autor explains that we currently live in an environment of 'winner takes most' markets, where having a small edge over your competitor gives you a massive advantage.
So firms like Amazon and Facebook are growing organically (people are on Facebook because their friends are on Facebook), but that doesn't mean that this growth is healthy. Or sustainable, in the long run.
We did have these monopolies in the past, Autor points out, citing the US railroads
My guess is that Facebook will be pretty much non-existent in 20 years time, Autor declares.
Autor is also critical of the US model where employees are not treated as stakeholders (unlike shareholders).
This situation has created a level of inequality that has led to political upheaval, he says.
Elsewhere in Davos, the head of the Red Cross has warned that fresh humanitarian crises could break out this year.
Peter Maurer, president of the International Committee of the Red Cross, says there are a lot of fragile situations that could develop into "full-fledged" conflicts (as we saw with the Rohingya crisis in 2017).
Maurer says there are plenty of places on the brink of war, violence and disruption.
He cites Southern Philippines (which is under martial law), Myanmar, Afghanistan, the Middle East, and large parts of Africa as places where the Red Cross sees fragility – but "we don't know which one will blow up in our face".
So what can Davos do about it?

Top business leaders have the skills and resources to help businesses in those fragile areas, and help them tipping into conflict.
Maurer also warns that humanitarian organisations need more money:



In 2018 we face a big gap between the needs of people and the capacity of the international system as a whole to respond.

The gap can only be bridged by more and better finance.
Ultimately, Blanchett says, we must remember we are all citizens, and stand up for what we believe in.
Cate Blanchett is close to tears, as she talks about one refugee family she met in Jordan. They had fled conflict with five of their children, being shot at by all sides.
Eventually, the father had to choose between carrying his suitcases and carrying his children (he chose the children). No-one should be put in that position, she says.
Q: Aren't politicians taking a hard line on refugees because they are reacting to the concerns of their populations?
Cate Blanchett argues that they're actually reacting to populist media and the news cycle.
We are at a fork in the road, she says.



We try to teach our children to be compassionate, to be tolerant, to accept diversity, to share. But all the structures that are around them are not doing the same, so it's quite a schizophrenic world they're living in.
And taking a swing at populist politicians, she says she don't understand how turning people in a boat back became an election winner.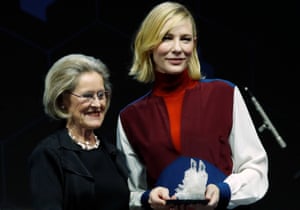 Australian actor Cate Blanchett is talking about the refugee crisis now (yesterday she was handed a WEF award for her work on this issue).
She explains how she went backpacking through Europe in her youth, which opened her eyes to economic inequality.
I was staying in youth hostels that were more like Turkish prisons, She explains, seeing people who didn't have anywhere else to go
Q: There's been a lot of criticism of Australia's policy to refugees….
Blanchett says she was 'bewildered' to see the generous, openhearted, multi-cultural Australia she grew up in "flouting the UN humans rights convention"



I was very distressed that Australia was reverting back to practices that made us a fortress again.
This drove Blanchett to become a goodwill ambassador to UNHCR



I think it's shameful. There's so much misinformation about refugees.

They are forced to flee, and then they are vilified in the media.
Blanchett says the misinformation about refugees is "very distressing", and doesn't connect with the actual people she has met.
There are 65 million displaced people in the world, 22 million are refugees, half are women and children. But just 1% have been resettled in advanced developed economies.



It's the developing world that is shouldering the deep burden of refugees.
She cites the Lebanon, where a quarter of the population are now refugees.
Blanchett also criticises the way refugees are reported in the media:



People are told this narrative that these people, who have so much to offer, are going to be a burden on us or become a terrorist threat.
Q: But have some people in developing economies been encouraged to travel to countries such as Germany, because they hoped to be given asylum?
Should we not talk about it, Blanchett replies rhetorically. The problem is not going to go away.



These are not terrorists. These are innocent people, who want to return home.
She's also calling for more burden-sharing between countries, to help address the refugee crisis.
The problem with all this optimism at Davos is that business leaders, economists and politicians have a nasty habit of missing impending disaster.
WEF veterans point out that the mood is often particularly upbeat shortly before a crisis.
Barclays CEO Jes Staley summed it up this morning, on the financial crisis session when he said Davos feels "a little bit like 2006 when we were all talking whether we've solved the riddle of economic crises."
The Carlyle Group David Rubenstein agreed, saying:



Generally, when people are happy and confident, something wrong happens.
Back with the UK public finances, and a Treasury spokesperson said:



We have made great progress in reducing the deficit by three quarters since 2010, but government debt is still far too high. Our balanced approach to government spending is getting debt falling, while investing in key public services and keeping taxes low.
And the Office for Budget Responsibility said:



It appears that the underlying improvement in borrowing so far this year is a little faster than would be consistent with our November forecast.
NF
Christoph Franz, the chairman of Roche, agrees that spirits are high at Davos this year – and with good reason.
Speaking to CNBC, Frans argues that 'healthy' economic growth is boosting optimism among top execs.



Basically, I have been here for more than ten years, I share your perspective, there's a very positive mood right now among business leaders here in Davos, and I think the reason is, we see a growth perspective in, not only some specific countries, but on a global scale, and the growth is achieving numbers which we have seen only before 2007.

So, the economy is taking up, and for the time being, it is growth which has been created by a lot of investment.
Britain's manufacturers continue to be optimistic about business prospects and exports, but are increasingly worried about skills shortages.
The CBI's latest industrial trends survey for the three months to January showed 27% of firms were more optimistic about the general business situation that three months ago, while 14% were less optimistic. The balance of +13% is up from -11% in the previous quarter.
Growth in manufacturing output and domestic and export orders all picked up, compared with the previous three-month period, although the monthly order book figure showed a fall from +17 in December to +14 in January.
And the number of firms saying a lack of skilled labour was likely to limit output over the next three months was the highest for more than four decades. Rain Newton-Smith, CBI chief economist, said:



It's good to see manufacturing going from strength-to-strength with growth up and the buoyant global economy boosting export orders. But the past depreciation in Sterling continues to leave its mark on firms' costs and margins. With expectations for factory gate price inflation at their highest in 30 years, the pressure on consumer prices looks set to persist.

Capacity pressures are ramping up and skill shortages are a big concern, underlining the importance of establishing a future immigration system that provides companies with access to talent and labour. The building blocks of a new system that meets economic needs and public concerns must start with scrapping the net migration target, which has never been fit-for-purpose.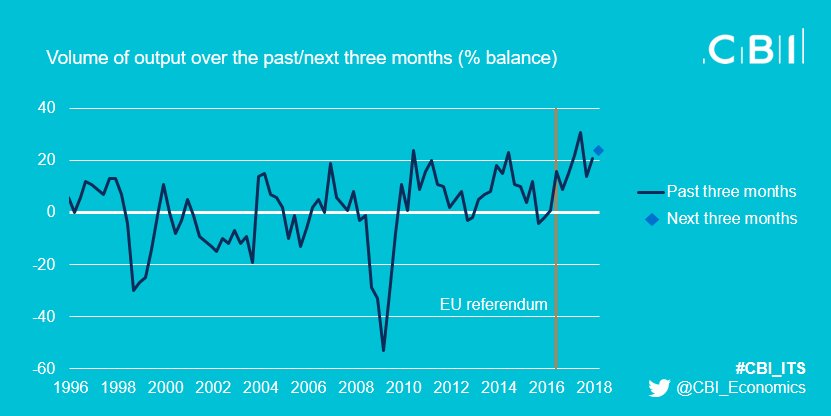 NF
Yup.
Modi wraps up his speech by identifying three priorities:
The world economy must be more inclusive
Policymakers must remain committed to a rules-based world order
Reforming the major institutions of the world, connected to politics, the economy and securtry
He talks about the Indian soldiers who died in world wars in the 20th century, to help create "peace and humanity".
India can be a humanising and harmonising force in an uncertain world, Modi promises, citing Indian prayers and poetry which advocates a free and peaceful world.
Together we can create a 'heaven of future', he promises, in a somewhat gushing conclusion.
Alas, he's not taking any questions.
Modi says India will achieve strong growth over the next few years.
Kenneth Roth of Human Rights Watch suggests Modi isn't living up to the glowing ideals he's preaching today:
(remember, Modi was once banned from visiting the US following claims he had supported Hindu extremists during Hindu-Muslim riots. He was later cleared by the Indian Supreme Court).
Modi is now encouraging businesses to invest in India, citing the hundreds of laws and regulations which have been stripped out to make te economy more competitive.
Instead of red tape, we offer you a red carpet, he jokes.