A year to the day after Trump took office, government goes into shutdown as nationwide protests take aim at his divisive presidency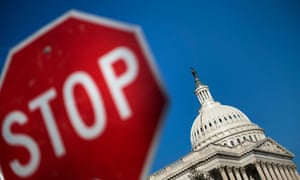 Donald Trump's first anniversary in office was marked by the turbulence and division that have defined his presidency, with a government shutdown and protests in cities across the country.
Up to 800,000 federal workers were told to stay home after the White House and Congress failed to strike a compromise on a government spending bill. Workers deemed essential and armed forces personnel were asked to stay at work. If the shutdown continues, they will likely go unpaid.
Armed services personnel abroad got their first taste of the looming cuts on Saturday when they were told they would not be able to watch Sunday's NFL playoff games because the armed forces broadcasting network had shut down.
With crisis talks under way, Trump cancelled a trip to his Florida retreat at Mar-a-Lago, where he had hoped to celebrate his year in office at a gala dinner.
Instead, as protesters marked their own anniversary of major anti-Trump demonstrations outside the White House and in other major cities, the president stayed in Washington, firing off angry tweets.
Trump sought to blame Democrats for the shutdown, claiming they were putting immigrants before other Americans.
Democrats blamed Trump, for walking away from a compromise over the future of young undocumented migrants known as Dreamers. They pointed out that the shutdown, the first since October 2013, was the first when one party controlled all three branches of government.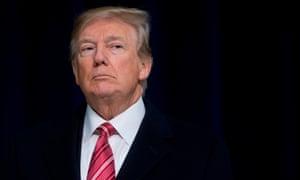 At a press conference, House minority leader Nancy Pelosi alluded to a tweet Trump wrote in May 2017, saying a shutdown would be good for the country.
"Happy anniversary Mr President, your wish came true," Pelosi said. "You won the shutdown. The shutdown is all yours."
Addressing the House, Republican speaker Paul Ryan
said: "Senate Democrats refuse to fund the government unless we agree to their demands on something entirely unrelated. They want a deal on immigration. And then they'll think about reopening the government."
Saturday's talks were focused on passing a stopgap spending measure. White House press secretary Sarah Huckabee Sanders said Trump was being updated and had been in touch with Republican leaders.
"The president will not negotiate on immigration reform until Democrats stop playing games and reopen the government," Sanders said.
At a White House briefing, director of legislative affairs Marc Short did signal a concession when he said Trump would sign a resolution that would keep the government funded for three weeks. The spending bill rejected by the Senate late Friday night would have kept the government open for four.
Deferred Action for Childhood Arrivals (Daca), Obama-era legislation that allowed approximately 700,000 Dreamers to stay in the country, is set to expire on 5 March after being rescinded by Trump. Democrats have refused to support any spending bill that does not restore such protection.
Republican senator Lindsey Graham, of South Carolina, said in a statement he believed a continuing resolution "through 8 February" and a commitment to "seek resolution on immigration, disaster relief, military and government funding, Chip [children's health insurance], and other healthcare related issues" would pass the upper chamber.
But Short said Senate Democrats were "basically conducting a two-year-old temper tantrum in front of the American people" and said: "We will not negotiate the status of 690,000 unlawful immigrants while hundreds of millions of tax-paying Americans, including hundreds of thousands of our troops in uniform and border agents protecting our country, are held hostage by Senate Democrats."
White House budget chief Mick Mulvaney accused Senate minority leader Chuck Schumer of lying about his Friday meeting with Trump.
Trump and Schumer shared a cheeseburger lunch at the White House. The president reportedly agreed to more time for a deal on Dreamers in return for more defence spending, funding for a border wall and tougher enforcement of immigration law.
But the deal began to fray over the duration of the stopgap and the toughness of immigration provisions and John Kelly, the White House chief of staff and an immigration hardliner, called Schumer to kill the talks.
On Saturday, Schumer said dealing with President Trump was "like negotiating with Jello", later adding that this was "because he can't stick to the terms."
Schumer's No 2 in the Senate, Dick Durbin of Illinois, said a bipartisan group of senators had been on the cusp of an agreement late on Friday, only for Ryan to inform his counterparts in the Senate that House Republicans would not agree to it.
AshLee Strong, a spokeswoman for Ryan, insisted in an email the speaker and McConnell had been "in communication and full agreement throughout".
The Pennsylvania Democrat Bob Casey said Republicans had ceded their negotiating position to a bloc of hardline House conservatives.
"I was not elected to genuflect to the Freedom Caucus," Casey said, before walking to the floor to vote down the funding measure that passed the House on Thursday.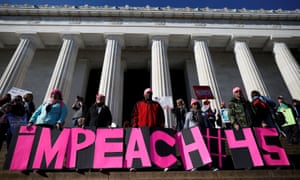 By Saturday morning, it appeared the White House had calculated that by making Daca non-negotiable, the Democrats had made themselves vulnerable to blame.
"Democrats are far more concerned with illegal immigrants than they are with our great military or safety at our dangerous southern border," one presidential tweet said. "They could have easily made a deal but decided to play Shutdown politics instead."
In a CNN poll, 31% blamed Democrats for the shutdown, 26% blamed Republicans and 21% held Trump responsible. Although a plurality blamed Republicans and there is broad support for protecting Dreamers, a majority thought it was more important to avoid a shutdown.
On Capitol Hill, there was some optimism. Sheldon Whitehouse, a Rhode Island Democrat, said there was "certainly a real possibility [of a deal] if there's good faith on both sides".
In the White House's view, Friday night saw "the first real serious negotiations about this [spending bill] which only happened because of the vote result".
Dan Sullivan, an Alaska Republican, said Democrats "may have wanted to bring out their Trump posters for a couple of days, show their extreme elements of the party that they were with them".